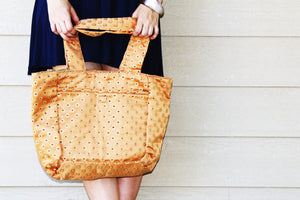 Founded by Russian Californian, Anastasia began as a line of colorful carryalls resembling everyday grocery bags. Since then, she's expanded her minimalist collection to include a versatile array of totes and handbags - each a perfect blend of functionality and fashion.
The tote is one of a kind. Made with recycled tapestry fabric. Which means you won't be able to find anything like it!
Handmade. One of a kind. Made in USA. Made in a small studio in Sacramento, CA
Approx. 15"L x 18.5"W. 9 handle drop
One big inner and one large outer pocket with Velcro closure
Velcro closure
Cotton gold lining
Materials: Tapestry, Upholstery fabrics, Cotton
Care instructions: Normal wash. Delicate Dry
Return shipping will be payed by buyer.