Effortless Day-to-Night Essentials for the Modern Woman.
The Be AK Couture girl has a ready smile, a big heart, and looks chic around the clock. 

She doesn't have time to overthink her wardrobe. 

She needs elegant go-to pieces that transition easily by switching out a few accessories as she moves through her day.  

Being comfortable and confident wherever she goes, she is free to be herself.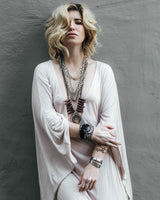 Looking for ethical clothing that makes you look and feel like a million bucks?
Each Be AK Couture piece is expertly handmade with sustainable materials by Anastasia Kryukova in Sacramento, California.
Fill your closet with go-to urban lifestyle pieces that flatter any body type and are made to last.

Learn More about Anastasia Kryukova, Couture Designer
LATEST NEWS
What To Do While Social Distancing
It's been some week, huh? I'm sure you are consuming enough news at this point to know the facts about coronavirus and how best to keep immune compromised populations healthy. And, yes, that means "social distance". My husband and I have both worked from home for many years now so we haven't taken a huge … Continue reading "What To Do While Social Distancing".
Dprimeramano magazine
Dprimeramano, Sacramento based, spanish speaking magazine featured spread about Sacramento Fashion Week. Which took place in the end of February at TheRink Studios. The showcase featured local designer. Including Be AK Couture (Anastasia Kryukova) new collection in collaboration with the leather bag's brand called Audentes Leather.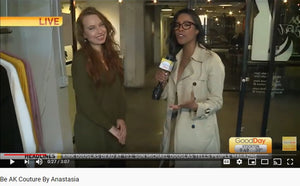 Good Day Sacramento news
Be AK Couture opened her own clothing store on February 1, 2020.
Location is inside of  WAL Public Market, 1104 R st, Sacramento, CA.
Read more
Anastasia was great! I requested a black and white suit with a cape attached for my son's wedding and she understood my vision. I received so many compliments at the wedding. I appreciate her hard work! She was amazing and so was the price.

Melody S.
Working with AK couture has been amazing! Quick responses, quality product, very kind lady and she brought my ideas to life just how I imagined them. 👏🏾

Carnita D.
I have had Anastasia work on many of my projects. She is excellent on her quality and experience as a seamstress, she is friendly and easy to work with and I highly recommend her to anyone looking for an experienced high-quality seamstress.

Kalan S.